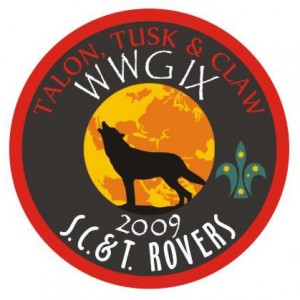 Weekend Wide Game North IX – October 2009
Talon, Task & Claw
24-25th October 2009, Cataract Scout Park
October 24-25 saw the Rovers of the South Coast and Tablelands return to the Cataract orienteering course to host the latest instalment of the Weekend Wide Game: "Talon, Tusk, and Claw". Inspired by Kipling's The Jungle Book, 22 Scout Patrols took on the roles of various animal characters – classed as Hunter, Pack, or Prey – and were sent out into the bush to try and survive a deadly drought. The Venturers, Rovers and Leaders took up the roles of Man or Forces of Nature (Earthquake, Disease, Famine, and Flash Flood)
The Hunters were the smallest group and at the top of the food chain, but the wolves of the Pack could band together to challenge them. The Prey animals were doomed to be food and could not defeat either predator, but could form Herds to pool their strength and could still win the day through cunning and superior tactics.
Forces of Nature roamed the jungle, causing harm to all they were able to catch. Given that a large number of them were riding mountain bikes, they presented a serious threat.
Man could be found throughout the game area. Any animal encountering them would randomly encounter one of three people: Buldeo the hunter, Messua the helper, or Toomai the healer – the latter only helping if the correct price was paid. Man did not have it their own way however, with each Hunter having the opportunity to become a Man-Eater. This risky opportunity was taken twice, resulting in a coordinated and resolute hunt for the culprits.
It was truly an interesting weekend. A recent back-burning operation had resulted in certain areas of the Orienteering Course producing very dirty Scouts – although it must be admitted that a large number of these Scouts looked as though the dirt and soot had been added deliberately!
Entrepreneurs abounded – as did conmen and "creative" approaches to the various problems and missions the game presented to the Patrols. Many Patrols displayed unexpected tactics and initiative and succeeded in ways we didn't expect, often to the frustration (and sometimes respect) of their pursuers. Well done to them all!
Special mentions go to:
The Figtree Patrol who managed to smuggle "The King's Ankus" past the Venturers by stuffing it down the pants leg of one of their members. This was impressive as the "Ankus" was made of iron, over a metre long and weighed a considerable amount.
The Southwell Patrol Leader whose shameless wheeling and dealing impressed all who came near him, and enabled his Patrol to be one of only two Prey Patrols to manage to end up having more "lives" than their starting amount.
The Keiraville Patrol who managed to locate and rescue "Mowgli" (a large pink teddy bear) twice in the space of as many hours – despite him being concealed in a different supposedly secret location each time.
The Jamberoo and Keiraville Patrols who became Man Eaters and evaded the resulting intense hunt for over 45 minutes each.
When it came to scoring, Patrols were first ranked in their "species", and a group of finalists chosen. Points were awarded as follows:
Prey
Points
Group
Patrol
456
1st Keiraville
Kingfishers
421
1st Figtree
Eagles
317
1st Helensburgh
Famous Five
277
1st Kiama
Sabre Tooth Tigers
247
1st Jamberoo
Bears
228
1st Balgownie
Falcons
222
1st Bulli
Bulli 1
206
1st Southwell (ACT)
Penguins
191
1st Jerrabomberra
Rock Lobsters
181
1st Hawkesbury
Hawkesbury Horrors
158
1st Warilla
Scorpions
142
1st Mt Kembla
Scorpions
68
1st Jerrabomberra
Rock Bandits
Pack
Points
Group
Patrol
522
1st Jamberoo
Awesomes
300
1st Keiraville
Albatrosses
199
1st Warilla
Spiders
195
1st Mt Kembla
Albatrosses
112
1st Helensburgh
Wicked 5
56
1st Albion Park
Slack Jawed Yokels
Hunter
Points
Group
Patrol
401
1st Keiraville
Hawks
305
1st Jamberoo
Claws
135
1st Mt Kembla
Platypus
The finalists collected from these groups were 1st Jamberoo Awesomes, 1st Keiraville Albatrosses, 1st Warilla Spiders, 1st Keiraville Kingfishers, 1st Figtree Eagles, and 1st Keiraville Hawks.
These finalists were then ranked across a different set of (common) goals to determine their placing. Of this group, the final positions were awarded as follows:
1st Place: 1st Jamberoo Awesomes
2nd Place: 1st Figtree Eagles
3rd Place: 1st Keiraville Kingfishers
The proud holders of the wooden spoon were 1st Albion Park Slack Jawed Yokels, now members of a very elite group of fellow recipients.
Winners of the Venturer award were 1st Balgownie.
Thanks go to ALL the Venturers, who made up an impressive contingent. Nearly 40 of them turned up to help run the event, proving that the appealing of hunting Scouts remains as powerful as ever, and that sleep is truly for the weak! The Organisers remain grateful for their assistance, as the WWG could not run without their help.
Recognition must also be made to the other dedicated organisers who helped produce this event: Bob Nightingale, Rob Chincella, Tristan Haider, and Catherine Ruskin. Much appreciated assistance was also received from representatives of nearly every one of the SC&T Rover Crews.
A final special thanks also go to Snowgum, who very generously donated prizes and material to the event.
On behalf of the SC&T Rovers and the WWG Committee, thank you all for coming, and I look forward to seeing you next year.
Yours in Rovering,
Andrew Clark
SC&T WWG Committee